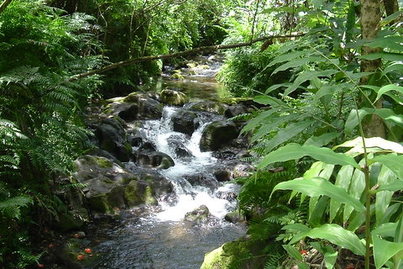 The 3HO--the Healthy, Happy, Holy organization-- is the official organization for the Kundalini Yoga of Yogi Bhajan in the United States. The website,
www.3HO.Org
, is a veritable treasure trove of information one needs as a practitioner of Kundalini Yoga.
---
WEBSITES
www.3ho.org
The official website of the Healthy, Happy, Holy organization for Yogi Bhajan's Kundalini yoga in the United States. This lists events for Summer and Winter Solstice celebrations, links to 3HO organizations in other countries, educational opportunities, free email publications, such as the
Aquarian Times
and monthly newsletters, instructional notes to many kriyas and meditations, recipes, lifestyle articles, and links to many other related resources. A wealth of information you won't want to be without.
www.kriteachings.org
This is the training and teaching arm under the 3ho umbrella organization. It is responsible for the training of Kundalini yoga teachers and insuring the accuracy of the transmissions of the teachings. This website has a searchable database to a vast library of teachings by Yogi
Bhajan. Another invaluable resource

www.ikyta.org
A professional global association of Kundalini Yoga Teachers, promoting an Aquarian community through teaching, practicing, and sharing Yogi Bhajan's teachings, is also the website to learn about teachers and events in your area

www.a-healing.com
The wonderful online store of Ancient Healing Ways, located in Espanola, NM. Sells Kundalini yoga music and books, body care products, herbal supplements and natural foods.
www.reichianinstitute.org
Dr. Siri Gian Singh Khalsa's website for Kundalini yoga intensive workshops, Kundalini yoga teacher training, breathwork, raw organic vegan food preparation, and cleansing retreats. Dr. Khalsa is my mentor and most esteemed teacher, who trained me to teach Kundalini yoga in 1998. These are workshops you won't want to miss.
www.spiritvoyage.com
A fantastic selection of yoga music, books, clothing, and yoga event tickets
. Every other Friday, a free music download is available, and 40-day meditations are often sponsored through this site.
BOOKS
The following books are recommended for information about Kundalini Yoga. They are available through
www.yogatech.com
and
www.a-healing.com
,
and sometimes at
www.amazon.com
Breathwalk
by Gurucharan Singh Khalsa, PhD and Yogi Bhajan, PhD
Divine Alignment
by Guru Prem Singh Khalsa
Kundalini Yoga: The Flow of Eternal Power
by Shakti Parwha Kaur Khalsa
Kundalini Yoga Meditation: Techniques Specific for Psychiatric Disorders, Couples Therapy & Personal Growth
by David S. Shannahoff-Khalsa
The Mind: Its Projections and Multiple Facets
by Yogi Bhajan, PhD
Praana, Praanee, Praanayam, Exploring the Breath Technology of Kundalini Yoga by Yogi Bhajan
The 21 Stages of Meditation by Gurucharan Singh Khalsa, PhD