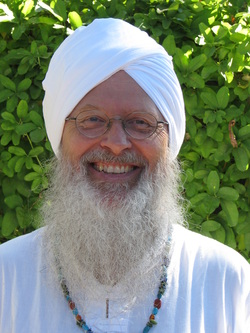 Manvir has taught Kundalini Yoga in the Sacramento area for over 17 years. Certified to teach by Dr. Siri Gian Singh Khalsa, he faced a health challenge nine years ago which caused him to re-evaluate his life and to step into a more authentic sense of being. Naturally, to expand his practice of yoga and teaching helps to fulfill that mandate.
His life experiences include a teacher of bodywork technique, a singer, a massage therapist, a numerologist, a practicing Buddhist, a hypnotherapist, an insurance underwriter, a photographer, a small-town postmaster, a graduate of the University of California, an ethnic folk dancer, and a follower of the spiritual path in many, many ways. He has taught Kundalini Yoga at North Bay HMO, Sutter HMO, the Davis Joint Unified School District, the Sacramento YWCA, the Buddhist Church of Sacramento, and the Sacramento City Parks & Recreation Department; he currently teaches at the
Sacramento Yoga Center
and periodically at
My Yoga Room
in Elk Grove.
Manvir has a keen interest in how the disease process enters the body, and how all illness can be traced to an entrenched belief system owned by the individual being affected. He finds that the vehicle of Kundalini yoga is the perfect method for not only healing the body and mind, but a proven method for healing the spirit and leading people to their own authenic and infinite being.
Presenting the material in a fun, easy-to-understand and heart-oriented style, Manvir will guide you in performing Kundalini Yoga exercises in accordance with your individual body's tolerance and needs in a safe and comfortable environment.
---